This post brought to you by
U-Pack
.
The content and opinions expressed below are that of Doodlecraft.
Making Memories while Moving!
Our world changed in 2011 when my husband joined the military. We were apart from him for a full year. We missed him so much. In February 2012, we got the go ahead to move across country to join him! I was a mother of 3 kids, the youngest being 3. I knew I needed help getting our stuff moved, because there was no way I could drive a truck myself...let alone with kids!
I had a wonderful friend recommend
U-Pack
to me. They have used them for multiple moves (they were military too) and had so much good to say about them! They had checked/called/contacted every moving company known to man, and
U-Pack (or ABF)
was the BEST price in the industry!
U-Pack
is brilliant! They bring you an entire empty trailer to your house and leave it there for 3 days. During that time, you pack it up and fill it as much as you need. (If you need additional trailers, they can do that too!)
Then they will pick it up, weigh it, measure it and only charge you for the amount of space that you used! They drive it to your destination! Or, if you don't know where you are moving yet, they can hold it for a monthly fee until you are ready for it.
They have lots of options and
resources to help
your moving go smoothly. They have
packing boxes
,
ReloCubes
for smaller moves, and more. You can get a
quote online
with no obligation...and you can also
schedule your trailer online
too! They make it so easy. There's a great way to estimate how much room you'll need, and I found it was pretty accurate. We were right on what we expected to pay (or under) with each of our moves and it was very affordable.
Our trailer arrived in the morning and we decided it would just be fun to play in for a little while.
Like tree poses, running and such.
Including a picnic lunch of popcorn and noodles. This time in the trailer helped the kids with the transition of moving. They knew we were going to put all our things in it and see it at our new house!
We had a big moving party and had lots of helpers load in all my boxes.
I had some help fitting everything in as tightly as possible. I used ropes and ratchets to cinch everything down and keep it from shifting during transit. Then we closed up the bulk heads. The bulkheads don't hold everything in place, they are just to separate my goods from anything else they might ship at the same time.
The next day, I called
U-Pack
and let them know that the trailer was loaded and ready to go.
They came and picked it up right on schedule. I gave them the address to deliver it to.
Then I packed up my carry on bags and set off across country...on the train!
When we arrived across the country we were thrilled to reunite with dad! We had one night of minimalist supplies...and then our trailer arrived the next morning!
We unloaded it all into our garage and called
U-Pack
to let them know it was ready to pick up!
Our trailer weighed 10,000 pounds!
They made the trip so easy for me. I never could have driven a moving truck with a 3 year old. It was so nice to just pack it and turn it over to them to deliver at the new address.
A year later, we were re-stationed and had to move again. I did not even hesitate. I called
U-Pack
and let them know we were moving again. They brought a trailer, we loaded it and off it went to the Southern states! This time our trailer weighed 12,000 pounds!
We drove to our new house and had the trailer delivered! It was fun to unpack our stuff into a new place. But the way of military life is never stationary...2 years later we were packing up again for our last move back home. I had 3 yard sales and we got rid of a lot of stuff.
Packing up boxes again.
We called
U-Pack
and got all set for them to drop off a trailer. They were amazing and worked out a great deal for us, since we had used them before. We loaded up the trailer for the last journey, back across the country. Our trailer weighed under 8,000 pounds. Wow, we got rid of 2 tons since last move!
They made it so easy for us to move an entire home 3 times in just 3 years.
U-Pack
was so simple and convenient that instead of causing stress and chaos and damaged goods...we were able to enjoy our transition. In the 3 moves only 2 items broke...due to my bad packaging. A cake plate and a mason jar. Pretty good considering! I loved just being able to pack it up and forget it! I love being the one to do all the packing and loading and then the unloading. That way I can make sure it is packed well and organized so it is easier to unpack.
Pack up here and unload there! Such a great service!
Then we just get to enjoy a really fabulous road trip! It was so much fun to see the entire country side and not worry about anything else.
I absolutely loved my experiences with
U-Pack
and would recommend them to anyone who is moving.
And for simpler moves, there's another great option!
ReloCubes!
Smaller size trailers that are easy to fill and relocate!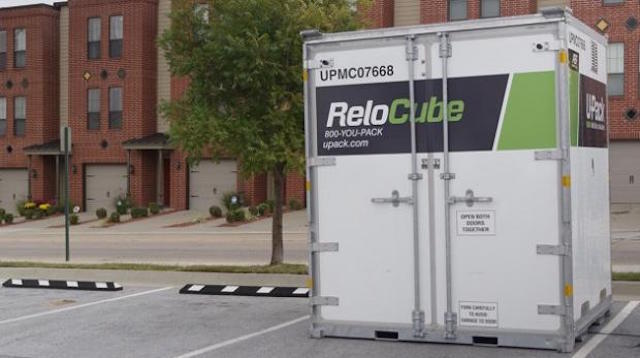 You pack it and they move it. Genius!